New values in Bon Pastor's remembrance. Increasing heritage shared inventory
Keywords:
Bon Pastor, Enric Sanchís House, Public facilities, Public space, Value of Public Space, Citizen participation
Abstract
The Enric Sanchís factory is one of the first settled in the Bon Pastor neighbourhood at the beginning of the 20th century. Of the set of buildings of the factory (White Center, colony for residence of workers and the house of the owners), at present day only remains the building of the owners (1914) and the rest of the old facilities are currently used by several small firms.  In 2001, the PERI states that the factory is affected and that its site will be destined to open a street and the building destined to equip the neighbourhood. In the current mandate, the district estimates that it is necessary to promote the possibilities opened by the 2001 PERI. Thanks to the powers of the Municipal Charter of Barcelona, on October 5th, 2017 the City gets the property of 280 m2 in order  to allocate a  neighbourhood facility.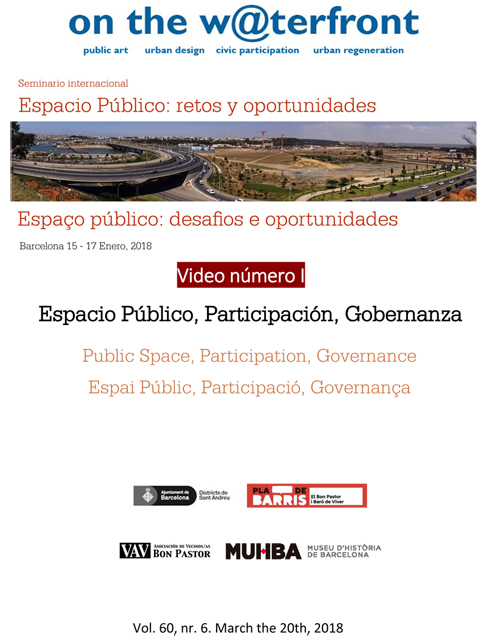 Downloads
How to Cite
Turégano, Carme. 2018. "New Values in Bon Pastor's Remembrance. Increasing Heritage Shared Inventory". On the W@terfront 60 (6). https://revistes.ub.edu/index.php/waterfront/article/view/21579.
License
The 
 licence allows: Share — copy and redistribute the material in any medium or format and Adapt — remix, transform, and build upon the material for any purpose, even commercially.The licensor cannot revoke these freedoms as long as you follow the license terms. Author's rights are protected by the ISSN 1139-7365. On the w@terfront has no restrictions respect the copyright by the authors and does allow authors to retain the publishing rights without restrictions.
This journal does not apply any type of charge to the authors for the presentation or processing of the articles.