EMERGING PRACTICES IN DESIGNING URBAN ARTIFACTS: INTERDISCIPLINARITY AND CO-DESIGN
Keywords:
interdisciplinarity, co-design, street furniture, public space, user
Abstract
This article explores the tangible and intangible dimensions of the relationship between street furniture, public space and its user. This relationship is discussed through a reflection on the concepts and key features in the development of interdisciplinary street furniture design projects. It is addressed the importance of street furniture elements in the valorisation and perception of the quality of public space, and the various dimensions underlying these artefacts. It is also discussed the concept of interdisciplinarity, integrating it within the view of co-design and how the new forms of public participation are changing the practice of design. It was intended to understand the full innovation potential of an interdisciplinary approach to street furniture design and the implications of that action.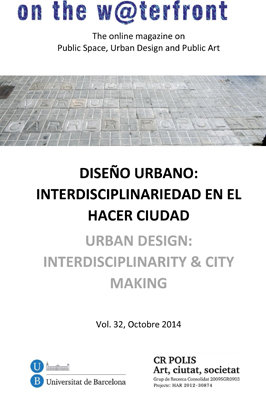 How to Cite
Águas, Sofía. 2014. "EMERGING PRACTICES IN DESIGNING URBAN ARTIFACTS: INTERDISCIPLINARITY AND CO-DESIGN". On the W@terfront, no. 32 (October):47-61. https://revistes.ub.edu/index.php/waterfront/article/view/18835.
License
The 
 licence allows: Share — copy and redistribute the material in any medium or format and Adapt — remix, transform, and build upon the material for any purpose, even commercially.The licensor cannot revoke these freedoms as long as you follow the license terms. Author's rights are protected by the ISSN 1139-7365. On the w@terfront has no restrictions respect the copyright by the authors and does allow authors to retain the publishing rights without restrictions.
This journal does not apply any type of charge to the authors for the presentation or processing of the articles.