HISTORIC DESIGNS IN PLACE MAKING: POETICS AND POLITICS OF STREET FURNITURE, 1755‐1938
Abstract
At the present time, public spaces are seen as the support of collective life. They reflect the inhabitant's culture and create the image of a place. They include a continuous public realm that reflects the image and identity of the city as it accommodates the many activities - individually or in‐group ‐ that make up public life and social interactions. The quality and image of these public spaces in the public perception is created by the cohesiveness of the public realm – the facades, squares, streets, open spaces, etc. – together with the street furniture contained within their structure. This paper will briefly describe the urban development of the city of Lisbon after the big earthquake in 1755 till near 1938, and the emergence of street furniture within this scenery. It will also identify the importance of knowing the relevance and effects of historical urban furniture elements in today's inhabitants' local memory and to understand its influence in users and in the overall environment.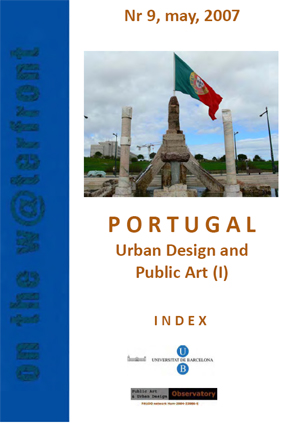 How to Cite
Barradas, Silvia, Sofia Aguas, and Sofia Isidoro. 2007. "HISTORIC DESIGNS IN PLACE MAKING: POETICS AND POLITICS OF STREET FURNITURE, 1755‐1938". On the W@terfront, no. 9 (April):9-19. https://revistes.ub.edu/index.php/waterfront/article/view/18923.
License
The 
 licence allows: Share — copy and redistribute the material in any medium or format and Adapt — remix, transform, and build upon the material for any purpose, even commercially.The licensor cannot revoke these freedoms as long as you follow the license terms. Author's rights are protected by the ISSN 1139-7365. On the w@terfront has no restrictions respect the copyright by the authors and does allow authors to retain the publishing rights without restrictions.
This journal does not apply any type of charge to the authors for the presentation or processing of the articles.