COMPARATIVE STUDY ON PARTICIPATORY PROCESSES TOWARDS URBAN REGENERATION AT THE HISTORIC CENTER OF PUEBLA. RESEARCH LINE: PUBLIC SPACE, CITIZEN PARTICIPATION AND HISTORIC CENTER. SAN ANTONIO, EL REFUGIO AND SANTA ANITA.
Keywords:
neighborhood, research, citizen participation, process, public space
Abstract
This paper addresses the problem of citizen participation on three old neighborhoods of the city of Puebla, Mexico (San Antonio, El Refugio and Santa Anita), that have been excluded from all architectural and urban transformation plans. Amongst the common problems are the buildings and public areas deterioration, derivate from the lack of state intervention through specific programs and the economic status from landowners.
The participation of architecture, urban planning, political sciences, communication and conservation students at the research line in Public Space, Citizen Participation and Historical Centers, sponsored by the Autonomous University of Puebla, has achieved, since summer 2012, various initiatives such the construction of the San Antonio neighborhoods library, Municipal donation of plants and trees for parks and gardens at El Refugio neighborhood and the urban and architectural design and blue prints of Santa Anita central park. All these projects have a positive impact on these communities where uncertainty and ignorance affects their possibility of approaching the proper authorities.
These participatory processes are diverse and complex despite the fact that the three neighborhoods are located in the northwest side of the historic center and have some social and economic similarities.
The research line continues collaborating with these communities throughout the students' work, in order to improve the quality of space and life of these old neighborhoods.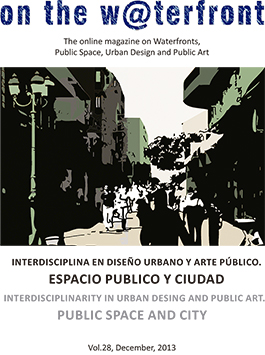 How to Cite
de la Torre, Christian, Paloma Morales, Bernardo Aco, Maricurz Bautista, Adriana Hernández, and César Rojas. 2013. " EL REFUGIO AND SANTA ANITA". On the W@terfront, no. 28 (December):78-96. https://revistes.ub.edu/index.php/waterfront/article/view/18849.
License
The 
 licence allows: Share — copy and redistribute the material in any medium or format and Adapt — remix, transform, and build upon the material for any purpose, even commercially.The licensor cannot revoke these freedoms as long as you follow the license terms. Author's rights are protected by the ISSN 1139-7365. On the w@terfront has no restrictions respect the copyright by the authors and does allow authors to retain the publishing rights without restrictions.
This journal does not apply any type of charge to the authors for the presentation or processing of the articles.