Public Space and Territorial Cohesion - The Case of the "Rambla de La Mina"
Keywords:
Public Space, Territorial Cohesion, Urban Space, Territorial Scales, Guiding Principle, La Mina, Barcelona
Abstract
The urban structure hosts an enormous variety of factors and interactions that, on one hand, reveal its interest and uniqueness but, on the other hand, leads to some of today's problems of territorial cohesion.
Public spaces have a fundamental role in the urban structure and city life, as they allow for formal and environmental continuity, accessibility, visibility, contributing to the reinforcement of social and economical centralities. Therefore it is fundamental to think of public spaces as important instruments on promoting territorial cohesion. The need to adapt public spaces to each site's specificities, in a local perspective as well as on the broader scale (city, region) becomes evident, highlighting the necessity for the articulation of both scales, in the way of promoting a cohese and inclusive territories.
It is on the often unstructured cities' peripheries, with their peculiar urban characteristics, that these interventions assume a greater importance, as with the case of the Barrio de La Mina, in Barcelona.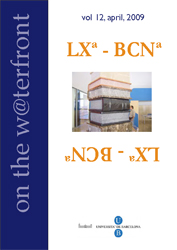 How to Cite
Pinto, Ana Júlia. 2009. "Quot";. On the W@terfront, no. 12 (April):149-63. https://revistes.ub.edu/index.php/waterfront/article/view/18891.
License
The 
 licence allows: Share — copy and redistribute the material in any medium or format and Adapt — remix, transform, and build upon the material for any purpose, even commercially.The licensor cannot revoke these freedoms as long as you follow the license terms. Author's rights are protected by the ISSN 1139-7365. On the w@terfront has no restrictions respect the copyright by the authors and does allow authors to retain the publishing rights without restrictions.
This journal does not apply any type of charge to the authors for the presentation or processing of the articles.