INTERDISCIPLINARITY IN PUBLIC SPACE PARTICIPATIVE PROJECTS: METHODS AND RESULTS IN PRACTICE AND TEACHING
Palabras clave:
interdisciplinary, urban design, participation, urban cohesion
Resumen
Because Urban Design is a territory of integrative synthesis, the  "overall view" that it requires comes through the collaboration of various sources of knowledge, some through professional  and others through non-professional knowledge of users.
The representation of actors involved in design (be them other professionals, urban deciders or users) is a part of research and teaching culture for several reasons namely because social and cultural interaction in the context of Urban Design management requires several capacities.
CRPOLIS, an research interdisciplinary center on urban studies in Barcelona University is linked to Urban Design teaching at master's degree level and supports an interdisciplinary research program also at PhD level in collaboration with other centers, in Spain and Portugal (such as CESUR-IST) where some cases of real "hands on" processes are developed. The role of interdisciplinarity in collaborative knowledge is relevant in gathering and interacting in three major directions:
In the construction of collaborative interdisciplinary research methodologies
In the design process of cities in transformation
In the development of design practice and studio teaching methods
We shall see in this paper how interdisciplinary approaches correspond to new and complex urban transformations, focusing on the importance of actors' interaction processes, combining professional and non-professional knowledge and theory-practice relations. Therefore, we aim at a deepening in public space area of knowledge under the growing complexity of urban life. We see it as a base for further development of collaborative projects and their implications on community empowerment and urban governance at local level. Motivations of this line of work are persistent in several ongoing research projects, aiming to:
- Understand public space as a cohesion factor both in urban life and urban form
- Manage processes and strategies as elements of urban transformation,
- Stimulate the understanding of actors' roles in urban design practices.
- Favoring the questioning of emerging aspects of urban space production…
The paper presents and analyses processes, methods and results from civic participation projects developed in the neighbourhood of Barò de Viver (Barcelona) and in the District of Marvila (Lisbon).
In the first case, a long process initiated in 2004 and partially completed in 2011, neighbours developed the projects "Memory Wall" and Ciutat d'Asuncion Promenade as part of identity construction in public space, in collaboration  with a team of facilitators from CrPolis group.
In the second case, different participatory processes dated from 2001 and 2003 have resulted in the implementation of a specific identity urban brand and communication system with an ongoing project of "maps" construction according to the neighbours perception and representation systems.
We may conclude that processes of urban governance require more active participation of citizens in projects regarding the improvement of quality of life. At the same time, the implementation of these processes requires a clear interdisciplinary approach, both with respect to the negotiation processes and the development of public space as an "urban structuring product" that we can axiomatically define by its multidimensional structure and its interaction with urban social life.
In all these projects neighbors have a prominent role, which in theory and method offers a serious reflection on how to develop participatory processes on public space with actors interaction at the same level, with local governments, experts and politicians, involving non-professional knowledge in collaborative environment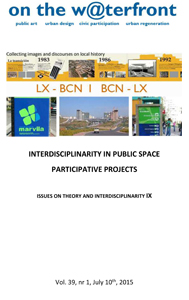 Descargas
Cómo citar
Brandão, Pedro, Ana Júlia Pinto, Ana Luísa Brandão, y Antoni Remesar. 2015. «INTERDISCIPLINARITY IN PUBLIC SPACE PARTICIPATIVE PROJECTS: METHODS AND RESULTS IN PRACTICE AND TEACHING». on the w@terfront. Public Art.Urban Design.Civic Participation.Urban Regeneration 39 (1):7-22. https://revistes.ub.edu/index.php/waterfront/article/view/18698.
Licencia
The
licence allows:
Share
 — copy and redistribute the material in any medium or format and
Adapt
 — remix, transform, and build upon the material for any purpose, even commercially.The licensor cannot revoke these freedoms as long as you follow the license terms. Author's rights are protected by the ISSN 1139-7365. On the w@terfront has no restrictions respect the copyright by the authors and does allow authors to retain the publishing rights without restrictions.
This journal does not apply any type of charge to the authors for the presentation or processing of the articles.