La Prosperitat. Nou Barris (Barcelona) Making public space for all
Keywords:
Public Space, Urban Design, Neighborhood, La Prosperitat, Nou Barris, COVID19, Lockdown, Google Earth
Abstract
The objective of this investigation is to make a first approach to the La Prosperitat neighbourhood (Nou Barris) in the context of the confinement in the time of COVID19, which forces us to reconsider the work processes and approach mechanisms in an untouchable territory.

Using the Google Earth tool and diverse platforms will provide us with virtual information about the city, out accessing possibilities and limitations in a neighbourhood that can only be visited from the screen.

The analysis from La Prosperitat presents its territorial and context limitations, its evolution over time, its main socio-economic characteristics, its relationship with urban policies and programs, its connectivity and public space highlighting the main interventions carried out in it.
References
Abeya, M.; Sanchez, J.; Oyón, J. (2020). Conferencia "Cent anys de la Prosperitat: Taller de memòria històrica ». Disponible en: https://youtu.be/K4oYZyOzc4s
AJUNTAMENTDE BARCELONA. (2019) El Pla de Barris de Barcelona 2016-2020 Memòriade seguiment, Març2019.
BUSQUETS, JOAN. (2004). Barcelona. La construcción urbanística de una ciudad compacta, Serbal, España.
CANTALLOPS I VALERI, MONTERO MADARIAGA, DE SOLÀ-MORALES I RUBIÓ, DE TORRES I CAPELL, ROS HOMBRAVELLA, ESTEBAN I NOGUERA, RIBAS I PIERA, FONT ARELLANO. (1972) "El Área Metropolitana de Barcelona". Cuadernos de Arquitectura y Urbansmo, N°87.
COMISSIÓ DEL CENTENARIDE LA PROSPERITAT. (2019). "100 anys de La Prosperitat, documentación 1919-2019". Disponible en: https://www.yumpu.com/es/document/read/60209824/documentacio-100-prosperitat-maig-18/54
FERNÁNDEZ VALENTÍ, R. (2010). Destinació: Nou Barris, Un viatger per la historia dels transport sa Nou Barris. Ajuntamentde Barcelona, Districte de Nou Barris
NEL LO, ORIOL, (Director) (2009). La Llei de barris. Una aposta col·lectiva per a la cohesió social. Generalitat de Catalunya
SASA MARÍN, ZUHRA (2013) El modelo Barcelona de Espacio Público y Diseño Urbano: Consolidación urbana de Nou barris a través de la red de espacios públicos http://hdl.handle.net/2445/33303

TATJER, MERCÈ. 1997. «Los orígenes de la vivienda social en Barcelona: Las cooperativas de viviendas en el primer tercio del siglo XX». Coloquio sobre «El desarrollo urbano de Montréal y Barcelona en la época contemporánea: estudio comparativo»Universidad de Barcelona, 5-7 de mayo de 1997. http://www.ub.edu/geocrit/tatjbcn.htm.

TARRAGÓ, S. (1972) "GATEPAC I, El Pla Macia o La Nova Barcelona". Cuadernos de Arquitectura y Urbanismo, N°90.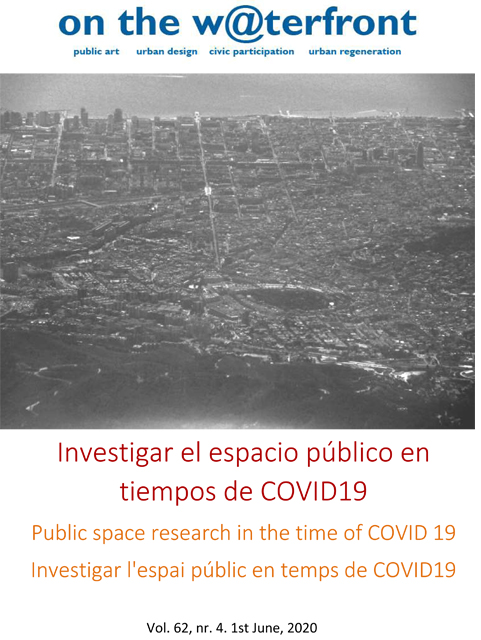 Downloads
How to Cite
del Real, Nicolás. 2020. "La Prosperitat. Nou Barris (Barcelona) Making Public Space for All". On the W@terfront 62 (4):25-45. https://doi.org/10.1344/waterfront2020.62.6.6.
License
The 
 licence allows: Share — copy and redistribute the material in any medium or format and Adapt — remix, transform, and build upon the material for any purpose, even commercially.The licensor cannot revoke these freedoms as long as you follow the license terms. Author's rights are protected by the ISSN 1139-7365. On the w@terfront has no restrictions respect the copyright by the authors and does allow authors to retain the publishing rights without restrictions.
This journal does not apply any type of charge to the authors for the presentation or processing of the articles.