DISEÑO URBANO E INTERDISCIPLINARIEDAD
Keywords:
Diseño Urbano, Interdisciplinariedad
Abstract
Hablamos del diseño urbano como conocimiento interdisciplinar: una acción práctica y teórica, sobre la forma de la ciudad, centrada en el diseño, construcción y vivencia del espacio público. Hablamos de problemas de diseño urbano en la actualidad - una busca para definir lo que es la "ciudad emergente", a partir del papel que tiene el espacio público y su problemática.
Hacemos-lo, no porque somos profesionales de diseño urbano (si bien que sería muy natural hacerlo, como arquitectos o otros profesionales del diseño, porque nuestro conocimiento de la ciudad está enfocado en "dar forma" a lugares urbanos… y ahora no sabemos decir la forma que es adecuada a la circunstancia). Y es así también con otros saberes reflexivos, analíticos o más filosóficos, en todos los dominios que hay de conocimiento sobre las cosas de ciudades, porque los nuevos problemas urbanos hoy en día son tan complejos y en muchos casos tan novedosos, que los modelos que pensábamos universales e intemporales, ya no se sostienen.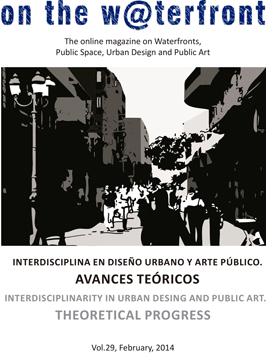 Downloads
How to Cite
Brandão, Pedro. 2014. "DISEÑO URBANO E INTERDISCIPLINARIEDAD". On the W@terfront, no. 29 (February):58-72. https://revistes.ub.edu/index.php/waterfront/article/view/18843.
License
The 
 licence allows: Share — copy and redistribute the material in any medium or format and Adapt — remix, transform, and build upon the material for any purpose, even commercially.The licensor cannot revoke these freedoms as long as you follow the license terms. Author's rights are protected by the ISSN 1139-7365. On the w@terfront has no restrictions respect the copyright by the authors and does allow authors to retain the publishing rights without restrictions.
This journal does not apply any type of charge to the authors for the presentation or processing of the articles.