From industrial to post-industrial: transition and urban diversity - lx / bcn
Keywords:
Transition, Industrial City, Post-industrial City, Diversity, Barcelona, Tagus South Bank
Abstract
In this communication we discuss the transformation of the "industrial city" to the "post-industrial city." Based on an interdisciplinary approach, we propose a reflection about transition periods - as times of construction of identities and future opportunities. In the contemporary city, the growth of metropolitan scale, different forms of spatial, social, economic and cultural organization, and the diversity of emerging urban contexts, do not allow to define the idea of "post-industrial city", in a single model. The instability of the mutations on the contemporary city is manifested in uncertainty contexts, questioning the action of planning and generating difficultiesin urban design. The fickleness of transition seems to carry – to professional designers, decision-makers, agents, actors and even inhabitants - indeterminacies, difficulties in understanding, in reading and accepting change. We can observe these issues and tensions reflected in the public space: in new projects, in the discourses produced and symbols created. Specifically we support the analysis in examples of post-industrial transformation: - On Margem Sul do Tejo (South Bank of Tagus Estuary), a territory expectant for centrality, in the old Industrial belt of Lisbon's Metropolitan Area; - In Barcelona, 22@Barcelona project, a operation of uses transformation and regeneration of the industrial neighborhood of Poblenou. We conclude with an assessment of urban diversity or heterogeneity, as a concept and a strategic factor for maintaining multiple possibilities and options open, in undefined moments of mutations of the city and its collective identities. We present a working hypothesis: in the transition process, we can work with the overlay of cycles (emerging and declining), there resulting a process of less replacement of models and more adaptable base of the city.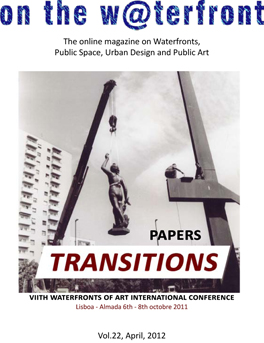 Downloads
How to Cite
Brandão, Ana Luísa, and Pedro Brandão. 2012. "From Industrial to Post-Industrial: Transition and Urban Diversity - Lx / Bcn". On the W@terfront, no. 22 (April):105-21. https://revistes.ub.edu/index.php/waterfront/article/view/18786.
License
The 
 licence allows: Share — copy and redistribute the material in any medium or format and Adapt — remix, transform, and build upon the material for any purpose, even commercially.The licensor cannot revoke these freedoms as long as you follow the license terms. Author's rights are protected by the ISSN 1139-7365. On the w@terfront has no restrictions respect the copyright by the authors and does allow authors to retain the publishing rights without restrictions.
This journal does not apply any type of charge to the authors for the presentation or processing of the articles.