"The city, like all that is solid is melting into the air? . Provisional Essay on Duration and Complexity
Keywords:
Time, City, Desire, Public Space
Abstract
This paper attempts to answer the question: When the city is out of our desire and our design, can we try a new reading that reconciles us with memory and at the same time, the future of the city? Or will we continue to convert the city in the factory of illusions that exploits time? The length of the city, can be measured by the lives of those who are witness, and so we can build or not, for all and to stay in the public space?.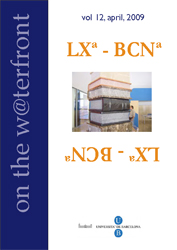 Downloads
How to Cite
Brandão, Pedro. 2009. "&Quot;The City, Like All That Is Solid Is Melting into the Air? . Provisional Essay on Duration and Complexity". On the W@terfront, no. 12 (April):189-92. https://revistes.ub.edu/index.php/waterfront/article/view/18894.
License
The 
 licence allows: Share — copy and redistribute the material in any medium or format and Adapt — remix, transform, and build upon the material for any purpose, even commercially.The licensor cannot revoke these freedoms as long as you follow the license terms. Author's rights are protected by the ISSN 1139-7365. On the w@terfront has no restrictions respect the copyright by the authors and does allow authors to retain the publishing rights without restrictions.
This journal does not apply any type of charge to the authors for the presentation or processing of the articles.