PUBLIC ART. CHALLENGES AND OPPORTUNITIES (I). THE EMERGENCE OF NEW LANGUAGES
Keywords:
city, design, sculpture, public art, urban design, art history
Abstract
This is an article on public art, city and urban governance. It is structured as historical narrative initiated in Barcelona in 1929 with the Mies van der Rohe Pavilion. It is both a written and a visual narrative story. For deliveries, with a hypertext structure. I recommend reading on screen and with a good search engine to link lecura and images with the expansion of information.
It is not a history, is the summary of stories. Conceptual, cognitive and personal. We jump from city to city. Most of the images who join us have been taken by the author. Public art and urban design creates a mapping and a temporality in contrast with the literature on the topic, chosen personally and with an interdisciplinary vocation.
The reader can follow the text or stopping at the tables. Combine text with pictures. Using the possibilities of augmented reality. The work concludes with a case study dedicated to Brancusi.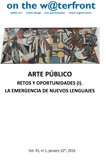 Downloads
How to Cite
Remesar, Antoni. 2016. "PUBLIC ART. CHALLENGES AND OPPORTUNITIES (I). THE EMERGENCE OF NEW LANGUAGES". On the W@terfront 41 (1):7-41. https://revistes.ub.edu/index.php/waterfront/article/view/18689.
License
The 
 licence allows: Share — copy and redistribute the material in any medium or format and Adapt — remix, transform, and build upon the material for any purpose, even commercially.The licensor cannot revoke these freedoms as long as you follow the license terms. Author's rights are protected by the ISSN 1139-7365. On the w@terfront has no restrictions respect the copyright by the authors and does allow authors to retain the publishing rights without restrictions.
This journal does not apply any type of charge to the authors for the presentation or processing of the articles.