PUBLIC SPACE: UNIVERSITY, CENSORSHIP AND POLITICS. A VISUAL ESSAY
Keywords:
Urban Ar, Street Art, Lisbon, Public Space, Governance, Censorship
Abstract
Lisbon, October 27, 2014, Dr. Jose Luis Cardoso director of the Institute of Social Sciences (ICS) at the University of Lisbon, has suspended the publication of the number 212 of the prestigious journal Análise Social. The reason: the number contains a visual essay produced by Ricardo Campos that is qualified to use a 'strong language'. While the online edition of the magazine was available (not try to find it at the site of the ICS) the printed edition was in printing machines. Now, the hard copies will be destroyed.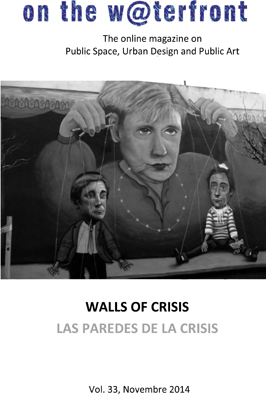 How to Cite
Remesar, Antoni. 2014. "PUBLIC SPACE: UNIVERSITY, CENSORSHIP AND POLITICS. A VISUAL ESSAY". On the W@terfront 33 (1):35-57. https://revistes.ub.edu/index.php/waterfront/article/view/18832.
License
The 
 licence allows: Share — copy and redistribute the material in any medium or format and Adapt — remix, transform, and build upon the material for any purpose, even commercially.The licensor cannot revoke these freedoms as long as you follow the license terms. Author's rights are protected by the ISSN 1139-7365. On the w@terfront has no restrictions respect the copyright by the authors and does allow authors to retain the publishing rights without restrictions.
This journal does not apply any type of charge to the authors for the presentation or processing of the articles.