Aprenentatge de soft skills amb reptes socials
Paraules clau:
Plataforma, Reptes, Docència híbrida, Lideratge, Competències
Resum
Es presenta un projecte d'innovació educativa realitzat en els cursos 20-21 i 21-22 de primer i segon del Títol Propi de Lideratge de la Universidad de San Pablo CEU de Madrid. Durant aquest curs acadèmic s'ha engegat en ambdós cursos un nou projecte educatiu basat en la docència virtual mixta (híbrida), on les masterclass o sessions més teòriques s'han complementat amb un Challenge Based Learning o Aprenentatge Basat en Reptes (ABR) vinculat a les matèries d'ambdós cursos, aplicant la metodologia Design Sprint, per a la realització de la qual s'ha emprat la plataforma Teams. L'objectiu era fer participar l'alumne del seu propi procés formatiu, en pretendre un aprenentatge experimental de les soft skills, pròpies de qualsevol curs de lideratge, aplicant mètodes àgils de treball, que són cada vegada més utilitzats a les empreses. En aquest sentit, l'aprenentatge basat en desafiaments ha suposat una experiència on els participants han desenvolupat solucions que requereixen un enfocament interdisciplinari i creatiu per al desenvolupament d'aquestes habilitats toves.
Referències
Anijovich, R., De Camilloni, R.M.A., Cappelletti, G., Hoffmann, J., Katzkowics, R., Mottier, L. (2010) La retroalimentación en la evaluación. La evaluación significativa. Paidós, Buenos Aires.
Apple Inc. (2010) Apple Classrooms of Tomorrow-Today. Disponible en: https://www.apple.com/ca/education/docs/Apple-ACOT2Whitepaper.pdf
Boud, D., Feletti, G. (1998) The Challenge of Problem-based Learning. Kogan Page, London.
Clarke, M. (2017) Repensar la empleabilidad de los graduados: el papel del capital, los atributos individuales y el contexto. Estudios en Educación Superior, 43 (11), pp. 1923-1937.
Campo, E., Ceballos, F. (2011) La calidad de la formación virtual en la enseñanza superior. En: Hilera J.R., Cervantes, F., Bengochea, L. Actas del I Congreso Iberoamericano sobre Calidad de la Formación (CAFVIR 2010) (pp. 151-158). Escuela Técnica Superior de Ingeniería Informática, Universidad de Alcalá, Alcalá de Henares.
Cordray, D.S., Harris, T.R., Klein, S.A. (2009) Research Synthesis of the Effectiveness, Replicability, and Generality of the VaNTH Challenge based Instructional Modules in Bioengineering. Journal of Engineering Education, 98(4), pp. 335-348.
Deepika, Chitranshi, J. (2020) Leader readiness of Gen Z in VUCA business environment. Foresight, 23(2), pp. 154-171.
Escudero Escorza, T. (2003) Desde los tests hasta la investigación evaluativa actual: Un siglo, el XX, de intenso desarrollo de la evaluación en educación. RELIEVE, 9(1), pp. 11-43.
Fidalgo-Blanco, Á., Sein-Echaluce, M.L., García Peñalvo, F.J. (2017) Aprendizaje Basado en Retos en una asignatura académica universitaria. Revista Iberoamericana de Informática Educativa, (25), pp. 1-8.
Gaskins, W.B., Johnson, J., Maltbie, C., Kukreti, A. (2015) Changing the Learning Environment in the College of Engineering and Applied Science Using Challenge Based Learning. International Journal of Engineering Pedagogy, 5(1), pp. 34-41.
Instituto Tecnológico y de Estudios Superiores de Monterrey (2016) Aprendizaje Basado en Retos. Disponible en: http://eduteka.icesi.edu.co/pdfdir/edutrends-aprendizaje-basado-en-retos.pdf
Instituto Tecnológico y de Estudios Superiores de Monterrey (2016) Radar de Innovación Educativa 2017. Disponible en: http://eduteka.icesi.edu.co/pdfdir/edutrends-radar-innovacion-educativa2017.pdf
Johnson, L., Adams Becker, S., Estrada, V., Freeman, A. (2015) NMC Horizon Report: Edición Educación Superior 2015. The New Media Consortium, Austin, Texas.
Knapp, J. (2018) Sprint. El método para resolver problemas y testar nuevas ideas en solo cinco días. Editorial Conecta, Barcelona.
Kroll, C. (2015) Sustanaible Development Goals: Are the rich countries ready? Sustanaible Governance Indicators - BertelsmanStiftung, Alemania.
Kucukozyigit, A.C. (2020) A Quest to Identify the Emerging Leadership Skills in VUCA World and Investigation of Their Applications in Various Organizational Levels and Security Environments. Doctor of Philosophy (PhD), Dissertation, Engineering Management & Systems Engineering, Old Dominion University. Disponible en: https://digitalcommons.odu.edu/emse_etds/180
Larmer, J. (2015) Project-Based Learning vs. Problem-Based Learning vs. X-BL. Disponible en: https://www.edutopia.org/blog/pbl-vs-pbl-vs-xbl-john-larmer
Martínez-Melis, N., Hurtado, A. (2001) Assessment in Translation Studies: Research Needs. Meta, 46 (2), pp. 272-287.
Moore, T., Morton, J. (2017) ¿El mito de la preparación para el trabajo? La comunicación escrita, la empleabilidad y la 'brecha de habilidades' en la educación superior. Estudios de Educación Superior, 42 (3), pp.1-19.
Naciones Unidas (2018) La Agenda 2030 y los Objetivos de Desarrollo Sostenible: una oportunidad para América Latina y el Caribe (LC/G.2681-P/Rev.3). Naciones Unidas, Santiago.
Disponible en: https://repositorio.cepal.org/bitstream/handle/11362/40155/24/S1801141_es.pdf
Pérez-Tornero, J.M. (2008) Teacher Training Curricula for Media and information Literacy. International Expert Group Meeting. UNESCO Headquarters, Paris.
Przybysz-Zaremba, M., Rimkūnienė, D., Vasilienė-Vasiliauskienė, V., Butvilas, T. (2017) Project-based learning: the complexity, benefits and challenges within 21st Century Education. Journal of Educational Review, 10(1-2), pp. 95-99.
Redecker, C., Leis, M., Leendertse, M., Punie, Y., Gijsbers, G., Kirschner, P., Stoyanov, S., Hoogveld, B. (2011) The Future of Learning: Preparing for Change. Disponible en: http://ipts.jrc.ec.europa.eu/publications/pub.cfm?id=4719
Succi, C., Wieandt, M. (2019) Walk the talk: soft skills' assessment of graduates. European Journal of Management and Business Economics, 28(2), pp. 114-125.
Tünnermann Bernheim, C. (2010) Las conferencias regionales y mundiales sobre educación superior de la UNESCO y su impacto en la educación superior de América Latina. Universidades, 47, pp. 31-46.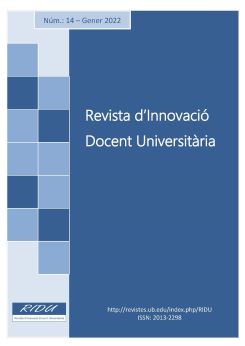 Descàrregues
Llicència
Drets d'autor (c) 2022 Sonia Martín Gómez, Angel Bartolome Mu´ñoz de Luna
Aquesta obra està sota una llicència internacional Creative Commons Reconeixement 4.0.
L'autor/a que publica en aquesta revista accepta les condicions següents:
L'autor/a conserva els drets d'autoria i atorga a la revista el dret de primera publicació de l'obra.
Els textos es difondran amb la llicència de reconeixement 4.0 Espanya de Creative Commons, la qual permet compartir, distribuir, reproduir i la comunicació pública, sempre que se'n reconegui l'autoria i la revista.