A postcolonial gaze on monumentality the need for interdisciplinary approaches
Keywords:
Public Art, Urban Design, Civic Participation, Urban Regeneration, Urban Governanceen
Abstract
This article is a reflection on a master thesis. The article tries to unravel some of the interdisciplinary keys present in the work and necessary for the development of research on Public Space and Public Art. At the same time argues in favor of "post colonial" reading over the-produced space by the colonial powers, both in terms of its structural dimension and in the dimension of "decorum".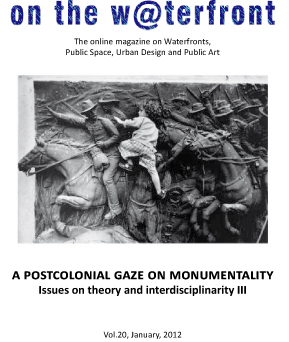 Downloads
How to Cite
Leal, Cunha, and Antoni Remesar. 2012. "A Postcolonial Gaze on Monumentality the Need for Interdisciplinary Approaches". On the W@terfront, no. 20 (March):5-10. https://revistes.ub.edu/index.php/waterfront/article/view/18749.
License
The 
 licence allows: Share — copy and redistribute the material in any medium or format and Adapt — remix, transform, and build upon the material for any purpose, even commercially.The licensor cannot revoke these freedoms as long as you follow the license terms. Author's rights are protected by the ISSN 1139-7365. On the w@terfront has no restrictions respect the copyright by the authors and does allow authors to retain the publishing rights without restrictions.
This journal does not apply any type of charge to the authors for the presentation or processing of the articles.