Arte Público en Regeneración Urbana. Calle Piotrkowska. Orgullo de una ciudad: Łódź
Palabras clave:
calle Piotrkowska, Lodz, Regeneración urbana, Arte publico, Espacio Público
Resumen
La calle Piotrkowska es el centro de Łodz. Un eje continuo de más de 4 km que atraviesa el territorio de norte a sur. Una larga calle comercial dividida en dos secciones claramente diferenciadas. El primero
desde la plaza Wolności hasta Centrum Piotrkowska (aprox. 2 km y sección transversal entre 16 y 24 m).
El segundo desde Centrum Piotrkowska hasta la plaza Niepodległości (aprox. 2,2 km y sección transversal
entre 25 y 30 m). Desde el principio, la calle fue el eje central alrededor del cual se desarrolló la ciudad, y su desarrollo dio espontáneamente la forma actual a su centro.
En la segunda sección de la calle, circulan los tranvías y, a pesar de tener algunas instalaciones patrimoniales importantes como la "Fábrica Blanca", la antigua sede de las industrias de Karol Scheibler y hoy sede del Museo Textil Central, no tiene el reconocimiento que el primer tramo.
La primera sección de la calle es la que aparece en todas las guías turísticas, es el corazón comercial y cultural de la ciudad, un lugar de encuentro favorito para los residentes y turistas de Łódź. Aquí se realizan
festivales, conciertos, eventos deportivos, fiestas y ferias.
La calle Piotrkowska sigue siendo el buque insignia de los procesos de regeneración urbana en Łódź, junto con Manufaktura, y el mega proyecto de regeneración urbana Nowe Centrum, con la nueva estación central
de la ciudad, el complejo cultural EC1 y la expansión del campus de la Universidad de Łódź. Territorio en el que debía desarrollarse la Expo 2022 que finalmente se celebrará en Buenos Aires.
El proceso de regeneración urbana de Piotrkowska incorpora claramente una estrategia de arte público. La particularidad de esta estrategia radica en su contenido, específicamente aquellos que proponen,
manifiestan o enfatizan el "orgullo de la ciudad".
Citas
Alphand , Adolphe. 1867. 1867-1873 Les promenades de Paris / histoire, description des embellissements, dépenses de création et d'entretien des Bois de Boulogne et de Vincennes, Champs- Elysées, parcs, squares,
boulevards, places plantées, études sur l'art des jardins et arboretum. Institut National d'Histoire de l'Art. Paris:
J.Rothschild editeur. http://gallica.bnf.fr/ark:/12148/bpt6k6276852z/f4.image.r=Alphand

Arantes , C - Vainer , C - Maricat , E. 2002. A Cidade do Pensamento Único. Desmanchando COnsensos.
Petrópolis: Editora Vozes.

Bartnik , A, & Suwart , A. 2015. «The Fountains of Łódź: Their Relevance to the Lives of its Inhabitants». Tourism,
2015. DOI 10.1515/tour-2015-0005.

Bensa ïd, Halim. 2016. «Mural Painting and the Spirit of Place versus Graffiti and Street Art». En In Gralińska-
Toborek;A -Kazimierska-Jerzyk, W (ED) Aesthetic Energy of the City, 155-60. Lodz: Wydawnictwo Uniwersytetu
Łódzkiego (Łódź University Press).https://wydawnictwo.uni.lodz.pl/produkt/aesthetic-energy-of-the-city/.
Bohigas , Oriol. 1985. Reconstrucció de Barcelona. Llibres a l'Abast. Barcelona: Edicions 62.

Borja , Jordi. 1988. Estado y Ciudad. Descentralización Política y Participación. Barcelona: PPU. Promociones y
Publicaciones Universitarias.

Borja , Jordi (ed). 1995. Barcelona: un modelo de transformación urbana. Quito: Progr ama de gestión Urbana
(PGU-LAC),.

CAPEL, Horacio. 2005. El Modelo Barcelona: un exámen crítico. Barcelona: Ediciones del Serbal.

CIESIÓŁKA, PRZEMYSŁAW. 2017. «Rewitalizacja w polityce rozwoju kraju». Rozwój Regionalny i Polityka Regionalna,
2017.

Cysek -Pawlak , Monika. 2016a. «International Expo in Lodz: an opportunity or threat for the development of the
city: impact of a cultural event on the spatial structure.» En Virtual City and Territory. "Back to the Sense of the City:
International Monograph Book, 1187-97. Barcelona: Centre de Política de Sòl i Valoracions. UPC. http://hdl.handle.
net/2117/90603.

Cysek -Pawlak , Monika. 2016b. «Znaczenie rewitalizacji w kontekście nadchodzących zmian polityki miejskiej i
krajowej. Analiza wybranych projektów strategicznych w Łodzi». Studia Ekonomiczne Regionu Lódzkiego, 2016.

Department of the Mayor , Department of the Mayor. City Strategy Office, y Rady Miejskiej w Łodzi. 2012 «Integrated Development Strategy for Lodz 2020+». The City of Lodz Office. https://bip.uml.lodz.pl/files/bip/public/miasto/dokumenty/BSM_strategia_ang_20131018.pdf.
El Hadad , Marie. 2017. «Barcelona: Small-Scale Public Spaces». Doctoral, Barcelona: Universitat de Barcelona.
http://www.tdx.cat/handle/10803/455143.

European Investment Bank . 2015. «Lodz Urban Renewal». European Investment Bank. https://www.eib.org/
en/projects/pipelines/all/20140294.

Fleming , M. 2012. «Legitimating Urban "Revitalisation" Strategies in Post-socialist Łódź». East European Politics
and Societies, 2012. https://doi.org/10.1177/0888325411415400.

Gralinska -Toborek , Agnieszka - Kazimierska -Jerzyk , Wioletta. 2014. Experiences of Art in Urban Space. Lodz.:
Urban Forms. 978-83-939800-0-0.

Hernando , Mateo; Remesar Aguilar , Nemo A. 2011. «The 'Employment in the Neighbourhoods' project: A
local economic development experience in Catalonia». Local Economy, 2011.

Kaczmarek , Sylwia, & Marcinczak , Szymon. 2013. «The blessing in Disguise. Urban regeneration in Poland in
a neo-liberal milieu». En Leary , M.E & McCarthy , J. The Routledge Companion to urban regeneration, 98-106.
Milton Park, Abingdon: Routledge. Taylor & Francis Group.

Kazimierczak , J. 2010. «Memorial plaques and monuments in Łódź-Śródmieście (the City Centre District)
commemorating people and events from the history of the city». Tourism, 2010. DOI 10.2478/v10106-010-0002-0.
Kazimierczak J. & Kosmowski P. 2017. «In the shadow of the urban regeneration megaproject: Urban
transitions in downtown Łódź, Poland». Urban Development Issues, 2017. 10.2478/udi-2018-0011.

Kazimierska -Jerzyk , W. 2015. «The Old Market in Lodz. A place without an axikological identity. Classic Aesthetic
Qualities as a Transfiguration potential». On the W@terfront. Public Art.Urban Design.Civic Participation.Urban
Regeneration, 2015. https://revistes.ub.edu/index.php/waterfront/article/view/18691.

Kazimierska -Jerzyk , Wioletta. 2019. «Aesthetic and Ethical Aspects of Responsibility for Mural Galleries
(Comparative Analysis of Collections in Zaspa/Gdańsk, Łódź and Dulwich/London).» On the W@terfront, 2019.
https://doi.org/10.1344/waterfront2019.61.6.7.

Machla ńsk i, Piotr. 2010. The Piotrkowska Trail. Łódź: City of Lodz. http://przetargi.bip.uml.lodz.pl/pokaz/plik.
htm?idPlik=3058.

MARCINIAK, K, & TUROWSKI, K. 2011. Streets of Crocodiles. Photography, Media, and Postsocialist Landscapes in
Poland. Chicago: Intellect.

MONCLUS, Fco. JAVIER. 2003. «El Modelo Barcelona, ¿Una fórmula Original? de la "Reconstrucción" a los Proyectos
urbanos estratégicos (1997-2004)». Perspectivas Urbanas, 2003. http://www.raco.cat/index.php/Perspectivas/
article/view/84991 [Consulta: 09-01-17].

Montaner , J.M.- Alvarez , F - Mux í, Z (ED). 2011. Archivo Crítico Modelo Barcelona, 1973 -2004. Barcelona:
Ajuntament de Barcelona.

Rady Miejskiej w Łodzi . 2009. «Strategia Rozwoju Ulicy Piotrkowskiej w Łodzi». http://d.polskatimes.pl/k/r/9/
d5/77/4d7f4c0c2b9db_z.pdf.

Rajkowska Joanna. 2014. «Pasaż Roży 2014, projekt publiczny». Website. Joanna Rajkowska (blog). 2014. http://
www.rajkowska.com/pasaz-rozy/.

Remesar , A (Coord). 2005. Do Projecto ao Objecto. Manual de Boas Práticas de Mobiliario Urbano em Centros
Históricos. Lisboa: Centro Portugês de Design.

REMESAR AGUILAR, NEMO. 2016. «Employment, Social Cohesion and Territory. Integrating labour market policies
into urban regeneration processes in Catalonia: The Employment in the Neighbourhoods case study». En in
Remesar , A (ED) The Art of Urban Design in Urban Regeneration, 27-61. Barcelona: Edicions de la Universitat de
Barcelona.

Remesar , Antoni. 2011. «O carácter simbólico da rua, identidade e apropiação». En in Brandao, P (ED) A rua é
nossa... de todos nós ! Lisboa: MUDE- Instituto Superior Técnico.

REMESAR, ANTONI. 2013. «Barcelona: Un modelo de Arte Público y Diseño Urbano». En in HAMANN, Johana (ED)
LIMA: ESPACIO PÚBLICO, ARTE Y CIUDAD, 13-54. Lima: Pontificia Universidad Católica del Perú.

Remesar , Antoni. 2016. «New Urban Decorum? Aesthetics To and Fro». En In Grali ńska -Toborek ;A
-Kazimierska -Jerzyk , W (ED) Aesthetic Energy of the City, 19-54. Lodz: Wydawnictwo Uniwersytetu Łódzkiego
(Łódź University Press). https://wydawnictwo.uni.lodz.pl/produkt/aesthetic-energy-of-the-city/.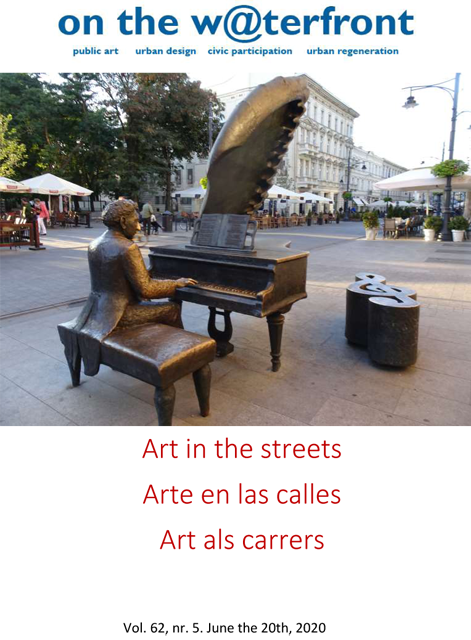 Descargas
Cómo citar
Remesar, Antoni. 2020. «Arte Público En Regeneración Urbana. Calle Piotrkowska. Orgullo De Una Ciudad: Łódź». on the w@terfront. Public Art.Urban Design.Civic Participation.Urban Regeneration 62 (5):29-78. https://doi.org/10.1344/waterfront2020.62.6.8.
Licencia
The
licence allows:
Share
 — copy and redistribute the material in any medium or format and
Adapt
 — remix, transform, and build upon the material for any purpose, even commercially.The licensor cannot revoke these freedoms as long as you follow the license terms. Author's rights are protected by the ISSN 1139-7365. On the w@terfront has no restrictions respect the copyright by the authors and does allow authors to retain the publishing rights without restrictions.
This journal does not apply any type of charge to the authors for the presentation or processing of the articles.