Libro: Visualising Multilingual Lives: More Than Words
Palabras clave:
didactics, specific didactics, music didactics, music education
Resumen
Reseña de: Kalaja, P., & Melo-Pfeifer, S. (Editores) (2020). Visualising Multilingual Lives: More Than Words. Bristol: Peter Lang.
Citas
Busch, B. (2017). Moving beyond "lingualism": Multilingual embodiment and multimodality in SLA. En S. May (Ed.), The multilingual turn: Implications for SLA, TESOL and bilingual education (pp. 54-77). Oxford: Routledge.
Holm, G. (2008). Visual research methods. Where are we and where are we going? En S. Nagy Hess-Biber y P. Leavy (Eds.), Handbook of emergent methods. New York: Guilford Press.
Kalaja, P., y Pitkänen-Huhta, A. (Eds.) (2018). Double special issue "Visual methods in applied language studies". Applied Linguistics Review, 9(2–3), 157–473.
Kramsch, C. (2009). The multilingual subject: What foreign language learners say about their experience and why it matters. Oxford: Oxford University Press.
Pavlenko, A. (2007). Autobiographic narratives as data in applied linguistics. Applied Linguistics, 28, 163–188.
Rose, G. (2012). Visual methodologies: An introduction to researching with visual materials (3ª ed). London: Sage.
Weber, S. (2008). Using visual images in research. En J.G. Knowles y A.L. Cole (Eds.), Handbook of the arts in qualitative research: Perspectives, methodologies, examples, and issues (pp. 41–53). London: Sage.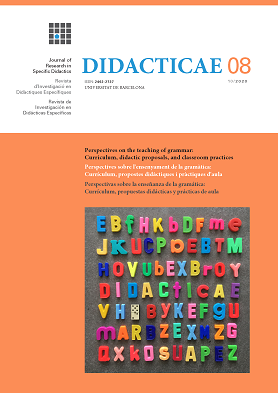 Descargas
Cómo citar
Zimmermann, M. (2021). Libro: Visualising Multilingual Lives: More Than Words. Didacticae: Revista De Investigación En Didácticas Específicas, (8), 209–212. https://doi.org/10.1344/did.2020.8.209-212
Sección
Reseñas de libros, tesis y proyectos
Licencia
Derechos de autor 2020 Martina Zimmermann
Esta obra está bajo una licencia internacional Creative Commons Atribución-CompartirIgual 4.0.
Los autores que publican en esta revista están de acuerdo con los siguientes términos:
El/la autor/a conserva los derechos de autoría y otorga a la revista el derecho de primera publicación de la obra.
Los textos publicados en Didacticae están bajo una licencia Reconocimiento-Compartir igual 4.0 España de Creative Commons. 
Para poder mencionar los trabajos se debe citar la fuente (Didacticae) y el autor del texto. 
Didacticae no acepta ninguna responsabilidad por los puntos de vista y las declaraciones hechas por los autores en su trabajo.