Deportació consensuada. Grècia i Turquia: una anhelada homogeneïtat ètnica (1923-1927)
Paraules clau:
Societat de Nacions: intercanvi; deportació; homogeneïtat ètnica; Imperi otomà; Mustafa Kemal; Eleftherios Venizelos; Àsia Menor
Resum
El convuls context polític i nacionalista esdevingut dins de l'Imperi otomà des de 1912 després de la guerra amb Itàlia, va conduir a unes persecucions, trasllats i expulsions de població tant musulmana com cristiana per la península balcànica i Àsia Menor. Per aquesta raó, Eleftherios Venizelos i Mustafa Kemal van acordar un intercanvi de població en 1923, consentit per la Societat de Nacions i els Aliats, amb l'objectiu d'intentar elaborar un estat homogeni,en termes ètnics.L'impacte que va ocasionar la deportació d'un milió i mig de persones, va implicar problemes socials i econòmics davant la incapacitat per absorbir tanta població d'ambdós estats. I que en l'actualitat continua tenint la seva repercussió.
Descàrregues
Les dades de descàrrega encara no estan disponibles.
Referències
Ahmad, F., 2003. Turkey: The Quest for Identity, Oneworld, Oxford.
Ahmad, F., 2014. The young Turks and the Ottoman nationalities: Armenians, Greeks, Albanians, Jews,
and Arabs, 1908-1918. Univ. of Utah Press, Salt Lake City.
Aslan, S., 2007. "«Citizen, Speak Turkish!»: A nation in the making". Nationalism and Ethnic Politics, vol. 13, no. 2.
Bade, K.J., 2003. Europa en movimiento: las migraciones desde finales del siglo xviii hasta nuestros
días. Crítica, Barcelona.
Bruneau, M., 2020. "L'Hellénisme pontique et sa diaspora: les territoires de la mémoire". Cahiers
balkaniques, no. 47.
Clark, B., 2006. Twice a Stranger: The Mass Expulsions that Forged Modern Greece and Turkey.
Garanta, London .
Davison, R.H., 1990. Essays in Ottoman and Turkish history, 1774-1923: the impact of the West.
University of Texas Press. Modern Middle East series, Austin.
Erden, M.S., 2004. "The Exchange of Greek and Turkish Populations in the 1920s and Its So cio-Economic Impacts on Life in Anatolia". Crime Law and Social Change, vol. 41, no. 3.
Gursoy, Y., 2008. "The effects of the population exchange on the Greek and Turkish political regi mes in the 1930s". East European quarterly, vol. 42, no. 2.
Hacholski, M., 2018."«A New and Unwholesome Principle»: American and British Influence on the Turco-Greek Exchange Convention of January 30, 1923". Voces Novae, vol. 3, no. 1.
Howland, C.P., 1926. "Greece and Her Refugees". Foreign Affairs, vol. 4, no. 4.
Karpat, K.H., 1963. "The People's Houses in Turkey: Establishment and Growth". Middle East Jour nal, vol. 17, no. ½.
Kayali, H., 1997. Arabs and young turks: ottomanism, arabism and islamism in the ottoman empire, 1908-1918. Univ. of California, Berkeley.
KolluuoĞlu, B., 2013. "Excesses of nationalism: Greco-Turkish population exchange", Nations and Nationalism, vol. 19, no. 3.
Ladas, S.P., 1932. The Exchange of Minorities: Bulgaria, Greece and Turkey. Macmillan Company , London.
Landau, J. M., 1995. Pan-Turkism: from irredentism to cooperation, C. Hurst & Co. Publishers, London.
Lewis, B., 1969. The emergence of modern Turkey. 2nd ed. Oxford University Press, New York.
Maccas, L. 1919. L'hellénisme de l'Asie-Mineure son histoire, sa puissance. Berger-Levrault, Paris.
Mango, A. 2011. Atatürk. John Murray, London.
Morgenthau, H., 1918. Ambassador Morgenthau's Story. Hodder & Stoughton, London.
Naimark, N.M., 2002. Fires of Hatred. Harvard University Press, Boston.
Nicolson, H., 1934. Curzon: the Last Phase, 1919-1925: A Study in Post-war Diplomacy. Constable, London.
Özsu, U., 2011. "Fabricating Fidelity: Nation-Building, International Law, and the Greek–Turkish Population Exchange". Leiden Journal of International Law, 2011/11/03. vol. 24, no. 4.
Pentzopoulos, D., 2002. The Balkan exchange of minorities and its impact on Greece. Hurst & Company, London.
Poulton, H., 1997. The Top hat, the Grey wolf, and the Crescent: Turkish nationalism and the Tur kish Republic, nyu Press, New York.
Shaw, S.J. y Shaw, E.K., 1977. History of the Ottoman Empire and Modern Turkey: Volume 2, Reform, Revolution and Republic: The Rise of Modern Turkey 1808-1975. Cambridge University Press, London.
Shields, S., 2016. "Forced Migration as Nation-Building: The League of Nations, Minority Protec tion, and the Greek-Turkish Population Exchange". Journal of the History of International Law / Revue d'histoire du droit international, vol. 18.
Toynbee, A., 1922.The Western Question in Greece and Turkey: A Study in the Contact of Civili sations. Constable, London.
Veiga, F., 2019. El turco: Diez siglos a las puertas de Europa. Debate, Barcelona.
Veiga, F. y Martín, P., 2014. Las guerras de la Gran Guerra, 1914-1923. Catarata, Madrid.
Voutira, E., 1998.When Greeks meet other Greeks: The long term consequences of the Lausanne Treaty and policy issues in the contemporary Greek context. The Compulsory Exchange of Popu lations between Greece and Turkey: Assessment of the Consequences of the Treaty of Lausanne 1923 (75th Anniversary). [en línea]. S.l.: s.n., [Consulta: 8 julio 2020].
Zürcher, E.J., 2004. Turkey: A Modern History. I.B. Tauris, London.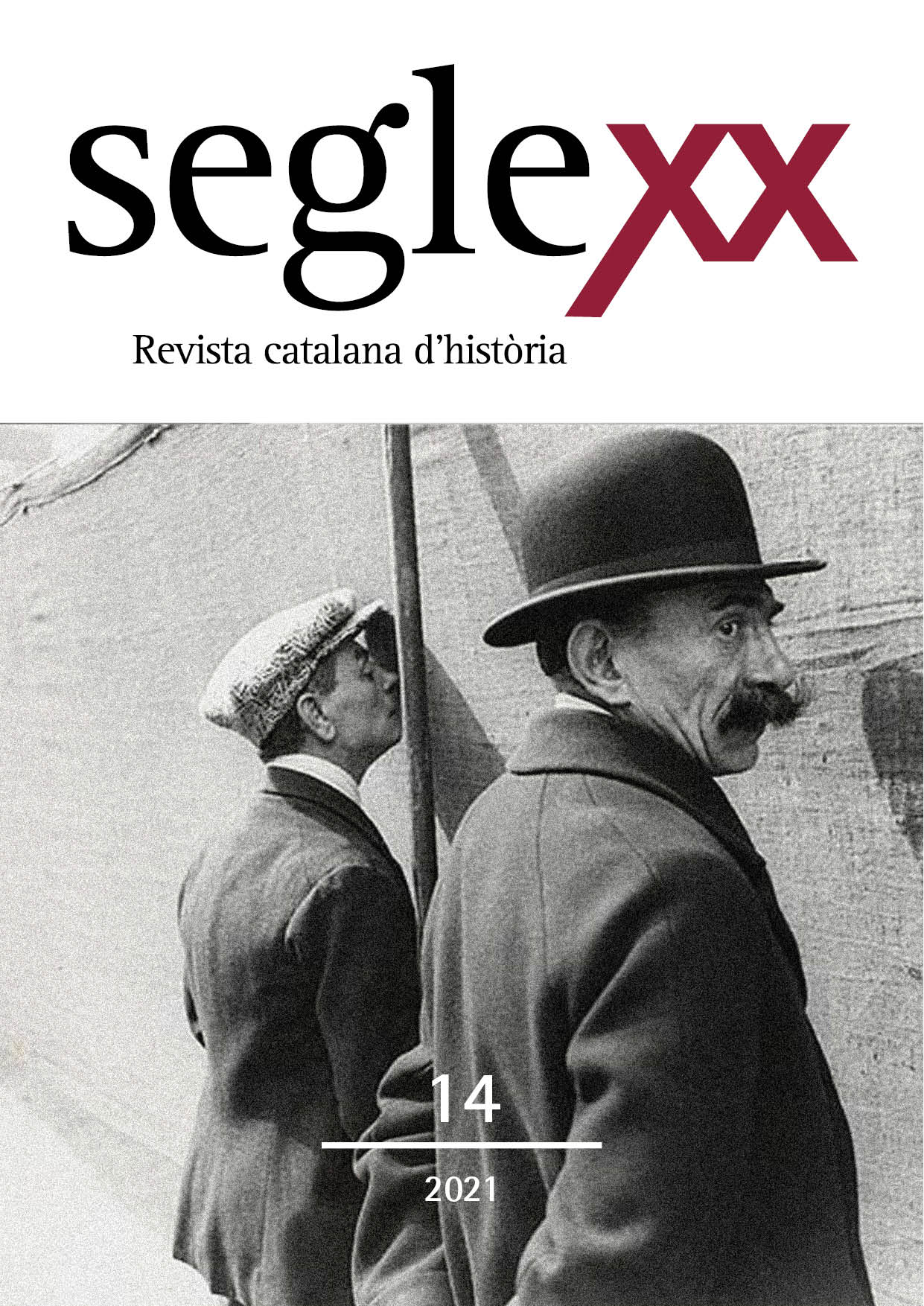 Descàrregues
Com citar
Sánchez Navarro, A. (2022). Deportació consensuada. Grècia i Turquia: una anhelada homogeneïtat ètnica (1923-1927). Segle XX: Revista Catalana d'història, (14), 41–66. Retrieved from https://revistes.ub.edu/index.php/segleXX/article/view/38183
Secció
Recerques i assajos
Llicència
Aquesta obra està sota una llicència internacional Creative Commons Reconeixement-NoComercial-SenseObraDerivada 4.0.
L'autor/a que publica en aquesta revista està d'acord amb els termes següents:
a. L'autor/a cedeix en exclusiva tots els drets de propietat intel·lectual a l'editor/a per a tot el món i per a tota la durada dels drets de propietat intel·lectual vigents aplicables.
b. L'editor/a difondrà els textos amb la Creative Commons Reconeixement-NoComercial-SenseObraDerivada 4.0, la qual permet compartir l'obra amb tercers, sempre que en reconeguin l'autoria, la publicació inicial en aquesta revista i les condicions de la llicència.